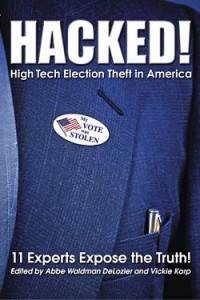 JoAnne Kloppenburg lost the election for Supreme Court Justice by over 7,000 votes, less than half a percent of the total votes cast. This entitles her to a machine recount on the State's dime. A machine recount will involve bundling up all the machine readable ballots and running them through the machines again. Seems like a useless exercise. What we need is a hand recount.
The Government Accountability Board audited the Waukesha County canvas and turned up only a few minor inconsistencies. Yesterday they reported that their audit review included:
Total Votes Cast Report from Voting Equipment
Ballot Container Security Seals/Documentation
Inspectors' Statement- Election Day Log
Write-In Form
Security Documentation of Voting Equipment Memory Devices
Certification Page of Poll List
They did NOT audit the voting machine programming. A hand recount is the only way to assure that the machines accurately tallied the votes. A statewide hand recount is the only way to be sure that a large scale hack-a-thon in Republican controlled counties didn't skew the election results. There is sufficient concern about the record of the Waukesha County Clerk to gain a court ordered hand recount in her county, but unless we bite the bullet and go through the painful process of a statewide hand recount, we won't be sure that our voting machines haven't been hacked in a systematic way.
Waukesha County has a consistent pattern of voting irregularities with a Republican bias going back to 2004. Barb Caffrey documents them here. Wisconsin voters place a lot of trust and confidence in our elections officials. Historically, they've deserved it. But trust without accountability puts us on the edge of a precipice. Unless we verify results from time to time, we're vulnerable to being pushed off that cliff but a self-serving few. The 2011 Supreme Court election is an opportunity to verify that the self-serving few haven't found a way to steal our ballot boxes.
Kloppenburg's decision must be made by 5pm today. From 12:30 to 3:30 today, in the State Capitol building at the Government Accountability offices a Rally for Election Fairness will be held. The Kloppenburg campaign can be reached by email at campaign@kloppenburgforjustice.com
UPDATE
She did it! Thanks JoAnne!