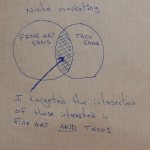 Being behind a camera, in front of the camera, is my own little deconstructionist niche.

– Joshua Leonard
The first issue of Popular Linguistics, an online magazine, is now available for people who enjoy that sort of thing. For me, an unbridled malefactor in the realm of lay-lie-lay, an unapologetic apostrophe punter, and some would say a comatose abuser of commas, the welcome mat may not be out. But I expect Beth, with her memories of Edinburgh and Austin and her adoration of most things Language Log will spend some time enjoyably immersed in the pixels presented by editor and publisher Douglas S. Bigham. Bigham says he hopes to serve a general, educated, scientifically-inclined audience, the same type of readers who, for example, enjoy Scientific American or Discover. (Popular linguist and wearer of the Safire crown, Ben Zimmer welcomed the new linguistic populist at Language Log yesterday).
The pseudonymous "Language Hat" on his eponymous blog also welcomed the new arrival yesterday. Many of those who commented on that post share my discomfort with the white on black typography. Bigham promises a shift to something easier on the eyes in the February issue.