I lost my watch last year. I removed it while I was mowing the lawn, because I didn't want to risk damaging it. It was  a big lawn, took two or three hours to mow on a lawn tractor. That much vibration and jarring was starting to make me hurt, so I reasoned that it couldn't be good for my watch. I stuffed the timepiece in my trouser pocket and fired up the mower. Then I mowed around the barn; mowed the lake lawn; mowed the front lawns and the side lawn; mowed what we laughingly called the "formal garden;" mowed the paths out through the field to the orchard, the shrubbery, the quasi-arboretum; mowed around the hazelnuts and around the vegetable garden; and I mowed several hundred feet of road frontage. Then I called it a day. When I dug in my pocket for the watch, it wasn't there. I had lost it. I hope the people who bought our farm found that watch and like it as much as I did.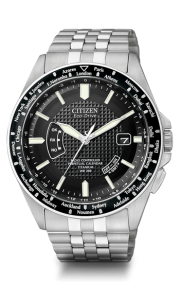 We moved and for many months I got along fine using my cell phone and wall clocks and car clocks to check the time. But, there came a point when I had to admit  that having a wrist watch was a convenience I missed. Maybe it was when I read about some absurdly expensive watch, a watch that was more jewelry than timepiece, but at some point I decided I'd try to replace the watch I lost. I looked for an exact match and could not find one. After a little research, I decided I didn't need diamonds and gold and such. I didn't need a Rolex or a Piaget. This expanded the range of affordable options open to me. Anybody who has used Google and Amazon to help them find a product or realize a materialist fantasy doesn't need me to recapitulate my process. I searched. I compared. I priced. I weighed and considered. And eventually I came up with a product that Amazon could provide that I thought would do the trick. While I hadn't tried it on, I was comfortable that if I didn't like it, I could return it, so I ordered it up and what do you know? It's been everything I hoped it would be.
My new watch is a Citizen Eco-Drive with a perpetual calendar. I'm hoping it's my forever watch, the last one I'll need to buy. (Did you know that some people collect watches? They have a watch wardrobe that they swap around and mix and match with their attire like some people swap out cuff links. Did you know that there are some people who wear cuff links?) My new watch has a sapphire crystal that won't scratch and a titanium case and band that are both tough and lightweight. If I fall off a boat and drown in less than 200 meters of water, the watch will keep running. It's the only watch I own. I flatter myself that it would look good whether I was wearing a tuxedo or a wetsuit, if I owned a tuxedo. Or a wetsuit.
The watch is solar powered. I'll never have to change a battery. I could leave it in the dark in a drawer for a couple of months before it would run out of stored solar power. It's radio controlled. It sets itself to the atomic clock so while it can gain or lose a few seconds every month or two, if it does, then it will correct itself and be synchronized to provide the exact time whenever I look at it. It has a perpetual calendar. I set it once, and I'll never have to set it again. Unlike all the other calendar watches I have ever owned, this one knows how many days there are in the current month and won't get confused until the year 2100. It keeps track of daylight savings time for me, and it has an easy adjustment to local time when I'm traveling. In the future, when I have wandered off down the twisted byways of senile dementia, this watch will be the most rational thing about me. I find that oddly pleasing.